G4, the video game network that aired from 2002 to 2014, has officially relaunched via streaming services and linear TV.
The channel can be found in Verizon Fios, Xfinity TV, and Cox cable packages, as well as through the Philo streaming service; other suppliers will be announced in the days and weeks to come.
Original programming can also be viewed for free via G4's Twitch and YouTube channels. The network's linear version will broadcast what's seen on the network's Twitch and YouTube a day after, edited specifically for television.
G4's launch week will feature the premieres of four original series, including the return of Attack of the show! and xplay, which had been staple shows during the network's previous life.
Attack of the show!, a variety show about geek culture, will premiere Nov. 17 at 4:00 p.m. PT on Twitch and YouTube.
The revival is expected to feature returning host Kevin Pereira as well as newcomers Gina Darling, Kassem G., Fiona Nova and Will Neff.
Later this week, xplay (all about video game reviews and "insightful, irreverent explorations of every game worth your time"), will stream November 19 at 12 p.m. PT on Twitch and YouTube.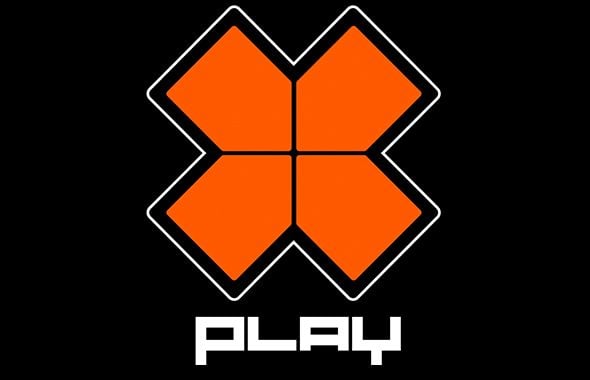 xplay sees the return of original host Adam Sessler, who will be joined by Forskurinn, Jirard "The Completionist" Khalil, and The Black Hokage.
The Dungeons & Dragons series party invitation and the show focusing on e-sports Boosted will air on November 19 at 3:00 p.m. PT and November 23 at 2:00 p.m. PT, respectively, also on Twitch and YouTube.


Although the channel's current programming blocks on linear channels only include reruns of ninja warrior right now (with breaks for specials like last year A Very Special G4 Holiday Reunion Special), more shows are expected to appear over the next few days, including those that won't be streaming on Twitch and G4's YouTube.
Classic games and competitive shows like Starcade, Unbeatable Banzuke, and Takeshi Castle will air on G4's linear feed alongside new TV programming from creators like Scott the Woz, AustinShow and Viva La Dirt League.
Future programming announced for G4 includes a kitboga animated series, a video game competition show by professional wrestler Xavier Woods and a project by VTuber CodeMiko.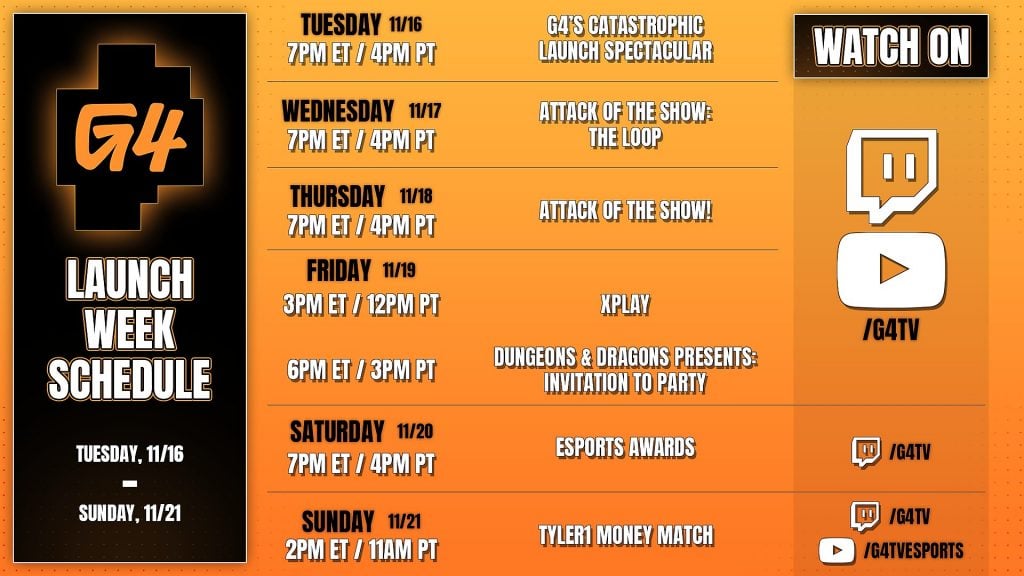 G4, focused on "video games, comedy, creators and culture", is a revival of the network that went off the air in 2014.
The original incarnation of G4 went live in 2002, launched with the tagline "TV for Gamers" and 10 original shows all focused on video games, including a competitive multiplayer show Arena, trailer showcase Cinematech, tips and tricks show Cheat!, and round table talk show G4tv.com.
In 2004, the network merged with TechTV, a cable network focused on technology and the Internet. The combined entity was briefly called "G4techTV".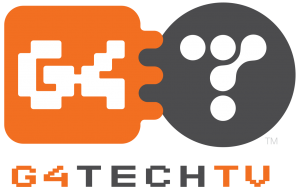 With the acquisition, G4 added TechTV programming like a tech variety show screen Savers and game review show X Play; later revamped G4 Screen savers in pop culture centered Attack of the show!
In 2005, "TechTV" was dropped from the name "G4techTV" in the United States, reverting to "G4" and adopting the new slogan "Videogame TV".
In the years since, G4 has become less and less focused on video games and more on a general lifestyle channel for men, airing reruns of shows like star trek, COPS, Cheaters, and Lost.
Poor network management and loss of viewership eventually led to the channel's demise in 2014, when all operations were shut down.
He announced his 2021 comeback in 2020 and held an open casting call for new hosts earlier this year.
After a G4 reunion show aired last November, G4 led its official relaunch throughout 2021 with multiple "G4 Beach House" streams and videos on its YouTube and Twitch channels.
Last month, the network officially revealed its relaunch date as November 16, 2021.
If you want to tune into the new G4, you can do so now by turning on your TV or watching the network's original broadcasts live on Twitch and YouTube.